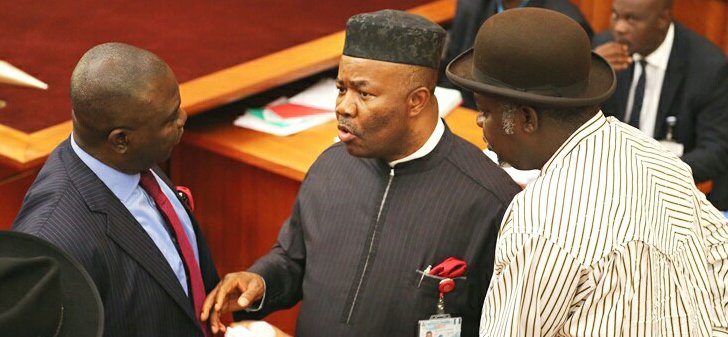 Akwa Ibom State former Governor, Senator Godswill Akpabio, the uncommon transformer have resigned from PEOPLE DEMOCRATIC PARTY(PDP) to ALL PROGRESSIVE CONGRESS(APC). With all controversies happening in the national assembly in Abuja, senators moving from one political party to the other and national assembly entrance blocked by DSS operatives, many have cast tantrums on the senator for betraying the trust of Nigerians and Akwa Ibomites while others believe he is a clever player by resigning from PDP to APC on Wednesday.
Udom said the letter was addressed to the Deputy Minority Leader, Senator Emmanuel Bwacha.
The statement said: "Senator Akpabio thanked the Senate leadership, the minority leadership, all distinguished Senators, his party the Peoples Democratic Party (PDP) for the opportunity to lead the PDP Caucus in the last three years.
"Senator Akpabio is expected to be received into the All Progressives Congress (APC) at a rally in Ikot Ekpene, Akwa Ibom State on Wednesday, August 8, 2018."
Thank you for the opportunity to lead the Senate caucus in the last three year, Please accept the assurance of my highest esteem pic.twitter.com/a2jyO63giz

— Godswill Obot Akpabio (@SenatorAkpabio) August 7, 2018
Dont assume the worst about Senator Akpabio. There is more to this than meets the eye. The Akpabio I know is a clever player! During war, you also send some of your own agents to infiltrate your opponents camp. Then you can destroy him from within. Politics is war by other means.

— Reno Omokri (@renoomokri) August 6, 2018